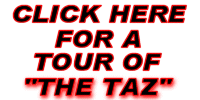 ---
Tazewell Speedway
1400 Bacchus Rd.
Tazewell, Tennessee 37879

Track Phone - (423) 626-2222
Track Owner - Gary Hall

Public Address Announcer - Brady Cupp
Track web site and PR - Michael Moats
Tech questions and rules - winchester5115@comcast.net


---
Tazewell, Tennessee's 1/3 mile dirt oval known as Tazewell Speedway was built in 1965 and is known as one of the country's most exciting racetracks. Fans know that Tazewell Speedway will produce action-packed racing action every time the gates open.
Tazewell Speedway (dubbed as "The Taz") is famous for it's extremely high banks and tight close racing action.
Tazewell Speedway is also known as one of the fastest tracks in the country. Jeff Wolfenbarger of Knoxville, TN established a new track record in 2009 with a time of 10.947 seconds. Rick Rogers of Knoxville was the first driver to crack the 10-second barrier in May 2009 before Wolfenbarger set a faster lap time just a few weeks later. Scott Bloomquist broke the record in 2013.
Tazewell Speedway hosts a six-division racing program featuring: Tazewell (Limited) Late Models, Sportsman Late Models, Modified Street, Pure Street, Four-Cylinder, and Classic Cars
Venture your way to the famous Tazewell Speedway-and bring the entire family-for an action-packed night of fun.
---
Weekly Racing Ticket Prices:
Grandstand Admission: $10.00 (Children the age of 9 and younger are admitted free with a paying
adult)
Pit Admission: $25.00
$15.00 (kids 12 and under)
(Admission Prices vary during special events)
For 2013, everyone under the age of 18 that enters the pit area must have two parents or guardians sign a release form and the release must be notarized. If a notary cannot be found, the track has a notary available. The track's insurance company is requiring this and Tazewell Speedway regrets any inconvenience this may cause.

Tazewell Speedway now accepts Visa and MasterCard
at all entrances into the speedway
---
Gate Opening Times:
Grandstands - 5:00
Pit Gates - 4:00 p.m.
(NOTE: Opening times for special events may vary)

---
Qualifying Records:
Super Late Models - Scott Bloomquist - 10.822 seconds
Steel-Head Late Models - Jason Trammell - 11.315 seconds
Crate Late Models - Mike Smith - 12.047 seconds
Modified Street - Dakotah Knuckles - 13.044 seconds
Pure Street - Steve Smith - 14.316 seconds
Four Cylinder - Kurt Owens - 14.137 seconds
Classic Car - Robbie Sands - 13.895 seconds
Open Wheel Modified - Donnie Adams - 12.358 seconds
Sportsman - Josh Fields - 12.129 seconds

---
Camping
Camping Sites are available upon request. Please contact the track for more information at (423) 626 2222.

These camping spaces are available on a "first come- first served" basis. There is a limited amount of electrical hook-ups.

NO COOLERS OR ALCOHOLIC BEVERAGES ARE ALLOWED ON THE PREMISES OF TAZEWELL SPEEDWAY.

---
Media Credentials
Members of the media are always welcome to Tazewell Speedway. Any media member wishing to cover one of our events should contact Michael Moats for approval prior to that event. Credentials are not carried over from one event to the next, a separate request must be submitted for each event. Anyone requesting credentials must be covering the event for an established media outlet. The outlet must submit the names of those they are sending to cover our events, this includes freelance media members. All freelance media members must be working for an established media outlet.
---
Tazewell Speedway Host Hotel


Tazewell Motor Lodge
Hwy. 25E
Tazewell, Tennessee
(423) 626-7229
---
Directions to Tazewell Speedway
Tazewell Speedway is located just two miles northwest of Tazewell, Tennessee. Going north on US 25-E, turn right and then left onto Bacchus Rd, and then 1.8 miles north, then .8 miles west and the race track is located on the left.