TRAMMELL CAPS OFF SEASON WITH WIN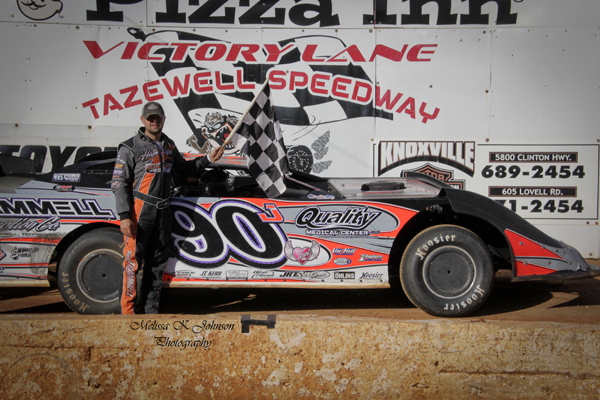 October 19, 2014 - Jason Trammell capped off the 2014 season at Tazewell Speedway with a win in the Tazewell Late Models. Trammell won the pole and grabbed the lead over Josh Henry. Trammell maintained a comfortable lead until the leaders caught lapped traffic. Trammell pulled away again for the win. Other winners on Sunday were Clyde Overholt, Phillip Thompson, Joey Allen, and Jonathan Miracle.
Earlier in the afternoon, the 2014 Tazewell Speedway track champions were honored. This year's champions are Josh Henry in Tazewell Late Models, Jordan Horton in sportsman, Joel Wolfenbarger in classics, Chuck McMahan in four cylinders, and Jonathan Miracle in pure streets.
Tazewell Speedway also inducted new members into the track's hall of fame. Jessie Bean and Larry "Goat Man" Burke were inducted prior to feature racing on Sunday.
---
TRAMMELL MAKES IT TWO IN A ROW,
KEVIN SMITH WINS BUSTER CUPP MEMORIAL
September 27, 2014 - Jason Trammell made it two in a row in the Tazewell Late Models on Saturday. Trammell started from the 6th spot and worked his way to second behind race leader Greg Estes by lap 6. Trammell made several attempts for the lead and finally took over the lead on lap 9. Kevin Smith won the Buster Cupp Memorial for the pure streets. Other winners on Saturday were Steve Carr, Phillip Thompson, and Joey Allen.
Racing continues on Saturday, October 4 for the 4th annual Fall Brawl in conjunction with 411 Motor Speedway. Limited Late Models will each be racing for $2,000 to win. Also racing will be Sportsman for $1,000 to win plus classics, four cylinders, and pure streets for $400 each. It will also be the points payout for this year's track champions. Ticket prices and gate times will be announced soon.
---
McCARTER HOLDS OFF JOHNSON FOR BUDDY ROGERS MEMORIAL WIN
September 13, 2014 - Mack McCarter held off veteran driver Ronnie Johnson to win the Buddy Rogers Memorial Chevrolet Performance Super Late Model Series. It was the biggest win in the young career of McCarter. Johnson won the pole for the 44-lap race, but it was McCarter that grabbed the lead when the green flag was displayed. Johnson remained close to McCarter through most of the race. McCarter had to deal with a lapped car coming to the checkered flag and crossed the line sideways in taking the win.
Other winners on Saturday were Jordan Horton, Phillip Thompson, Jeremy Collins, and Jonathan Miracle.
The Buster Cupp Memorial is the next race on tap on Saturday, September 20. The pure streets will be racing for $500 to win. Tazewell Late Models, sportsman, classics, and four cylinders will also be racing.
---
---